Patient Support Managers (PSMs) are here to help throughout your journey with pyruvate kinase (PK) deficiency
Our PSMs act as your ally to deliver custom disease education and support.
It's been so transforming to be a part of the myAgios program and having the guidance of a Patient Support Manager to help navigate through PK deficiency.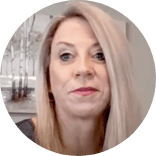 Jill
Enrolled in myAgios Patient Support Services
Individuals featured were paid by Agios for their participation.
Hear more from this webinar